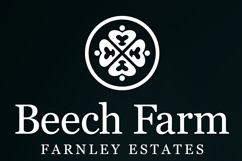 ---
Your opportunity to design the
look and specification of your
own home in outstandingly
beautiful countryside
---
---

ON YOUR DOORSTEP
Life at Beech Farm isn't just about the house you live in. The new homes will maintain the high standard of the built heritage of the Farnley Estate, and residents of Beech Farm will also enjoy the remarkable sense of community which dates back to the 11th Century, and which continues to thrive today.
At Beech Farm, you have the ability to immerse yourself and your family into village life; take part in the Estate's conservation work, join the pony club, or simply enjoy being involved in the village fete. There are rural pursuits for every member of the family, from the Women's Institute, golf, fishing, to clay pigeon or game shoots. What's more, you will be able to be part of the fabric of the estate, as historical discoveries are uncovered – who knows, you could even be making these discoveries yourself. And after a busy day, where better than to relax that the Golden Cock, with its warm welcome, and great food and beer.
The residents of Beech Farm are encouraged to get involved with the estate to continue to foster the outstanding sense of community spirit, and have the opportunity to witness the estate's preservation and growth. From 1086, when mentioned in the Domesday Book, to the present day, our residents continue to make important contributions to history today.